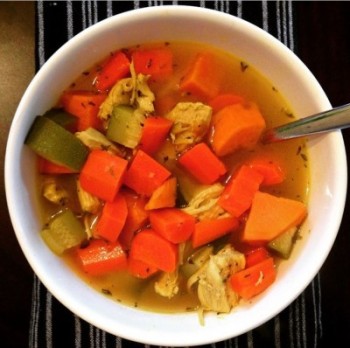 Ginger Chicken Soup is a great all-around, feel good recipe that warms your soul from the inside out! Not only is this recipe extremely flavorful and yummy, but it is also packed full of powerful properties like garlic, ginger, turmeric, and coconut oil. So, if you are feeling down, this recipe will kick some serious booty.
Benefits of Garlic:
Garlic's active agents are produced when the clove is crushed or chopped. This means that to get the powerful cancer-fighting properties, you should let the garlic sit for at least 10-15 minutes and chopping. Otherwise, you could be cooking the garlic before all of the powerful properties have formed.
Contains Allicin which is known to have great anti-bacterial, anti-viral, anti-fungal and anti-oxidant properties.
Can have a healing effect on your circulatory, digestive and immunological systems.
Help in lowering blood pressure, detoxification, healing, and more.
Helps keep bacterial and viral infections at bay due to its innate compounds.
Source
Benefits of Ginger:
Contains anti-inflammatory properties and may even rival NSAIDs for pain management.
Has shown successful results in containing cancer and diabetes fighting properties.
Great for digestion and can help nausea and motion sickness.
Studies have shown improvement in heart health, weight loss, improving cognitive function, and more.
Source
Benefits of Turmeric:
More and more research is showing how powerful turmeric can be. With so many benefits, it almost seems silly to not include it in every-day cooking.
Anti-inflammatory ("Turmeric is one of the most potent natural anti-inflammatories available," from the American Academy of Pain Management).
Supports brain health, protects and detoxifies liver.
Antioxidant.
Has cancer fighting properties and helps fight infection.
Studies have shown it helpful in treating depression, eczema, IBS, cystic fibrosis, multiple sclerosis, and more.
May lower cholesterol, support heart health.
Source
Benefits of Coconut Oil
When cooking with coconut oil, make sure to choose an organic, refined, cold-pressed options to get all of the great benefits.
Can increase energy and help you burn more fat.
Can withstand high heat, so that its powerful properties are not destroyed when cooking.
Has high amounts of Lauric Acid that acts as a great anti-bacterial, anti-viral, and anti-fungal.
Contains fatty acids that boost brain function in Alzheimer's patients, improve blood cholesterol levels, and have ketogenic properties which can reduce seizures.
Source
So, now do you see why we love this recipe? Please give it a try and let us know what you think.
Immunity Boosting Ginger Soup
2015-08-04 16:37:16
Serves 4
Nutrition Facts
Amount Per Serving
* Percent Daily Values are based on a 2,000 calorie diet. Your Daily Values may be higher or lower depending on your calorie needs.
Broth Recipe
1 tbsp coconut oil
1 cup onion, diced
3 cloves garlic, crushed
8 cups low sodium vegetable broth
3 cups water
2 cups white wine
1 (4 inch) piece fresh ginger, peeled and thinly sliced
8 whole black peppercorns
3 bay leaves
Soup Recipe
1 cup carrots, sliced
2 stalks celery, diced
1 zucchini
2 tbsp rosemary
1 tsp turmeric
2 tablespoons thyme
3 garlic cloves, minced
1 tbsp ginger, grated
2 tsp pepper
1 tsp sea salt, or to taste
Instructions
Start heating a large pot over medium heat. While the pan is heating up, chop the onion and crush the garlic cloves.
Add coconut oil to heated pot. Add onion, and crushed garlic cloves; cook in hot oil until onions start to turn translucent, about 5 minutes.
While cooking the onions, slice the ginger and chop the rest of the vegetables.
Once the onions are done, pour broth, water, and white wine over the onion mixture. Add sliced ginger, peppercorns, and bay leaves into the liquid. Bring to a boil, then reduce to a simmer.
Add carrot, celery, zucchini, rosemary, turmeric, and thyme to the broth. Cook until the vegetables begin to soften, about 15 minutes.
Once the vegetables are tender, remove and discard the crushed garlic cloves, ginger, bay leaves and peppercorns using a slotted spoon.
Add the fresh minced garlic, grated ginger, salt, and pepper. Let simmer another couple of minutes. Remove the pot from heat and serve.
Happy Body Kitchen http://happybodykitchen.com/